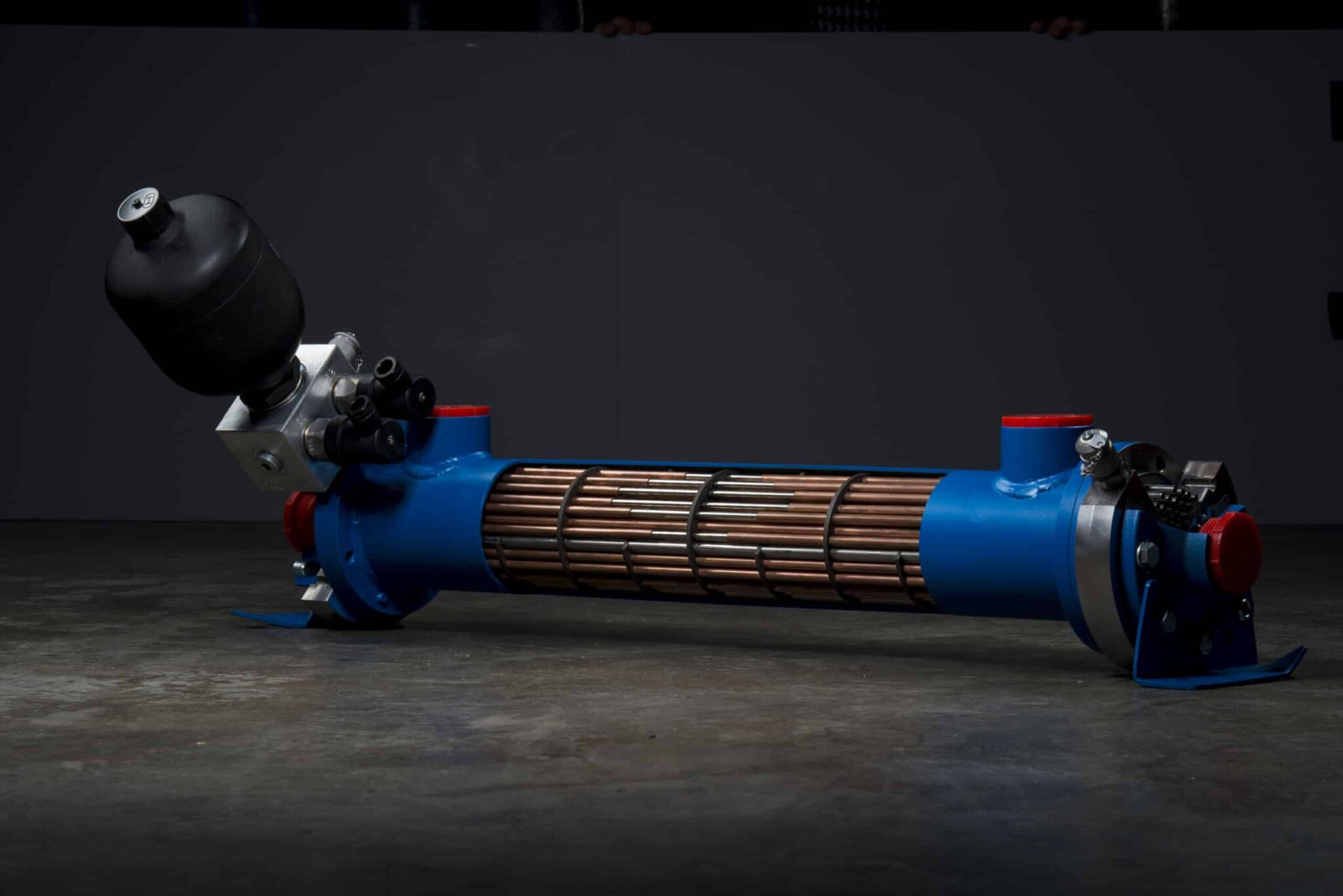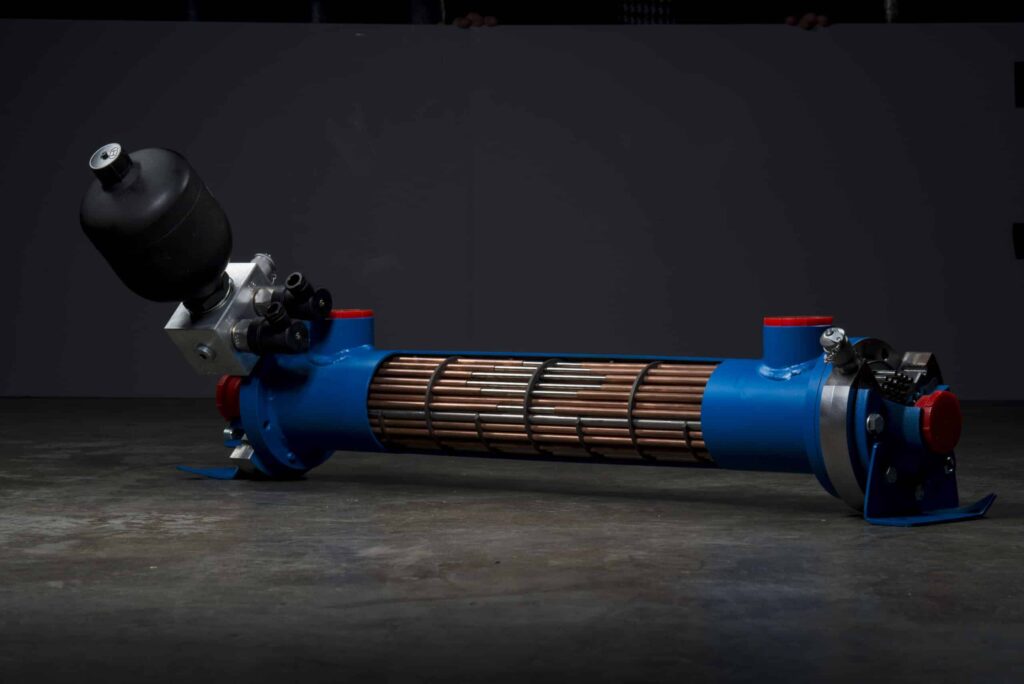 Compressed Air Heat Exchangers
Great article by Wolfgang Kräusslich, Senior Chief Editor of Fluid magazine on customized heat exchangers saving space and money for Kaeser Compressors
Particularly when it comes to cleaning the water side, shell and tube heat exchangers have advantages over plate heat exchangers. Universal Hydraulik has now presented two innovations for this tried-and-tested product. One of these was given a closer look by fluid at Kaeser Kompressoren in Coburg.
Sometimes, heat can be troublesome. It is generally created unintentionally, and if it is not wanted for the process, it must be dissipated. Cooling ­fins, fans and in certain cases appropriate heat exchangers are the tools of choice here. ‑ is also applies for compressors, where heat must be conducted away from both the drive train and from the compression process. Coburg-based compressed air specialist Kaeser Kompressoren uses air cooling alone for its screw compressors up to 30 kW, while for larger capacities air or water may be used, depending on the application and space requirements. The less space is available, the more water tends to be used. For units with three-­figure kW ratings, water cooling is the option most frequently used.
The Problem with Water Quality
Water – well, that sounds simple enough at first. But the devil is in the detail. Not all water is the same. And unlike in the oil or air side of a heat exchanger, the designer normally has less control over the quality of the water used. Each user deals with this issue differently; some put additives into the cooling circuit, while others have open circuits and highly varying qualities of water. Sometimes river water is used. But rivers can often be cloudy, and industry experts know that water ­filters are one of the components people economize on. Even where the water quality is tested in advance, a flood can turn a clear-running stream into a torrent of turbulent mud.
Additionally, substances such as chlorides or manganese in the water are invisible at first but can corrode away even the best stainless steel. It's a similar story where seawater is used.
Both Tubes and Plates – Now Riding Piggyback
With their fi­nned design, plate heat exchangers contain a number of sharp internal angles, which makes them prone to contamination and becoming blocked. As a rule they are not easy to clean, unless one opts for large and costly models that can be unscrewed. Shell and tube heat exchangers, on the other hand, have smooth tubes on the water side that are less likely to attract dirt. If necessary the diameter of the tubes can be increased or the material adapted to the water quality. Various solutions exist, such as copper-nickel alloys (CuNi10 Fe), stainless steel (1.4571) or titanium, to cover most applications. The biggest advantage, however, is that this type of heat exchanger is very simple to clean. Just unscrew it, scrub it out and put it back together, you could say.
On the other hand, however, simple shell and tube heat exchangers have the disadvantage of requiring more space for a given cooling capacity. This is where Universal Hydraulik brings the hybrid heat exchanger into the game, combining the benefi­ts of both plate and shell and tube heat exchangers. This design has a greatly enlarged heat exchanging surface on the oil or air side, achieved through the use of plates drawn over the water tubes and linked to them by metal. This allows a unit to be created that is as compact as a plate heat exchanger. With this hybrid cooler, the manufacturer is now particularly represented in many Kaeser compressors used in advanced customer applications in difficult conditions such as marine environments. Another important factor; however, is that the loss of pressure caused by the heat exchanger inserted into the circuit must be as low as possible. Particularly in the case of air cooling and typically not more than 0.1 bar, and for this reason Kaeser has often ­fitted two heat exchangers. This is because where pressure loss is low, the level of compression can also be lower and thus a smaller motor can be used. For situations where space is very limited and only one unit can be ­fitted, meanwhile, the technicians of Universal Hydraulik have devised a market innovation – effectively two heat exchangers in one, in which the main tube carries another 'piggyback', as it were. The result: the required cooling capacity and a low loss of pressure, available for use where space is reduced.
Safety Heat Exchangers in Compact Format
In some situations, such as where river water or groundwater in an open-loop circuit is used for cooling, it is essential that no fluid from the oil circuit comes into contact with the water and that no water comes into the oil circuit. For such purposes, safety heat exchangers, which are also referred to as failsafe heat exchangers, are used – that is essentially a specially-designed double-tube heat exchanger. These exchangers also feature electronic monitoring for leakage that might occur, say, due to pitting corrosion.
Here again, Universal Hydraulik has come up with an innovation. Until now, safety heat exchangers have not been available in hybrid designs, and as a result they have been about three times larger for the same cooling capacity. With a new manufacturing process, however, it has become possible to make the gap between the tubes so small that the manufacturer can now house the double tube plus electronic monitoring in a hybrid model. This means that an ordinary hybrid cooler can now be replaced by a safety heat exchanger of the same physical size. And while Kaeser is not yet ­fitting the new safety heat exchangers into its compressors, it is good to know that it is available.