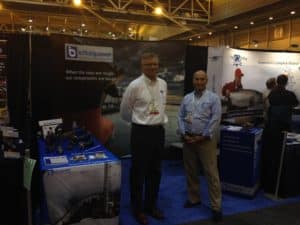 First International WorkBoat Show a Success for IC-Fluid Power
For the first time in their history, IC-Fluid Power attended the International WorkBoat Show, held annually in New Orleans, LA. Doug Cheney and Tim Niemiec, both in sales for IC-Fluid Power, worked the show October 9-11 with more than 1,000 other exhibitors. The International WorkBoat Show is North America's largest commercial marine tradeshow.
Despite attendance being down slightly due to the show's October date (the show is usually held in December), IC-Fluid Power received good exposure for their Universal Hydraulik heat exchangers, particularly the fail-safe cooler line.
Fail-safe coolers are often used in marine, offshore oil, power and steel plants, and other applications where natural water is used as the cooling medium and, for reasons of environmental or mechanical protection, mixing of mediums needs to be avoided. Universal Hydraulik's fail-safe coolers act as two heat exchangers in one ensuring 100% safety if the outer or inner tube gets destroyed.
"The Workboat Show was a great learning experience for a better understanding of the Marine Industry and marine applications," commented Mr. Niemiec. Mr. Cheney added, "I considered it an excellent event and venue. We did very well for this being our first WorkBoat Show. With some adjustments, I expect we'll improve on our success next year."
For additional information on Universal Hydraulik's fail-safe cooler line, visit www.icfluid.com/products/heat-exchangers or call 1-877-ICFLUID.