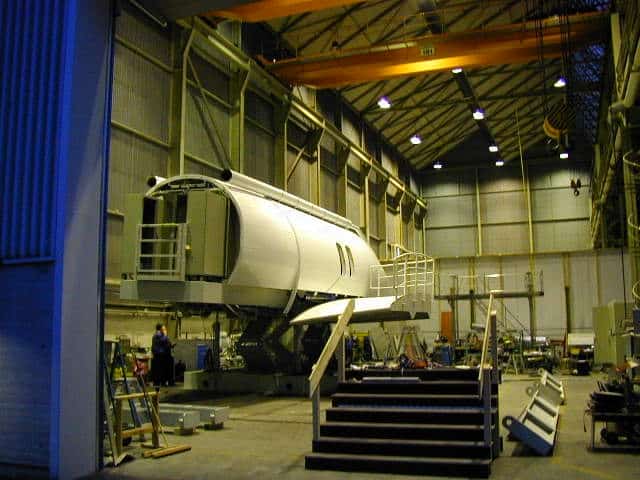 Hänchen Specialty Cylinders Used in Airplane Crash Simulator
Airplane flight and crash simulation has become an indispensable tool for aviation training, emergency preparedness and crash investigation. Simulators provide an opportunity to effectively train airplane personnel economically and safely, as well as improve the overall safety of air travel.
Simulator complexity varies considerably. Basic simulators are simply computer programs provide users with a number of scenarios which mimic the experience of flight. More complex flight simulators include replicas of cockpits mounted on hydraulics so that it can create a very realistic simulation of the actual flight and/or crash experience.
In this case, Hänchen specialty cylinders were used on an airplane crash motion simulator for an Airbus A321 airplane. The simulation began with the plane flying at a normal altitude and cruising speed when an error occurs. Once the emergency is enacted, the hydraulic cylinders start working and the plane is flying more rough. The subwoofers kick on and the inside the plane there is an increasing level of vibration and noise.
Simulated by the cylinders, the plane crashes down and skids on the ground. When the plane comes to rest, it is in an undefined position and the crew has to evacuate the passengers over the right wing.
Technical Summary:
Number of cylinders | Front: 3 | Rear: 2
Dimension | 125/80/1100
Seals | Hänchen Servocop
Maximum speed of cylinder | 500 mm/s
Pressure | 300 bar
Electronic parts:            
Sensors
Linear transducer | Output signal SSI, resolution 5 µm
Pressure transducer | 0…400 bar = 4…20 mA
Valves
Proportional valve | Moog D662 with a nominal flow of 250 l/min (see moog.com)
Security valve | Cartidge valve with a flow of about 500 l/min
Controller | Digital close loop controller
Interface | Ethernet
Do you have an application where hydraulic components are needed? Call 1-877-ICFLUID.