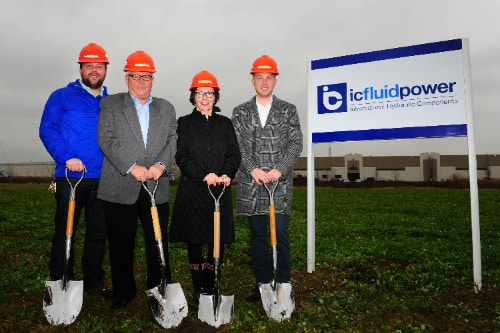 IC-Fluid Power Breaks Ground on New Building
IC-Fluid Power, a privately-held custom hydraulics and replacement spare parts firm, held a groundbreaking ceremony Friday, November 22 for a new, state-of-the-art headquarters and manufacturing facility located in Northwood, Ohio. The new 14,080 square foot facility is expected to be completed spring 2014.
IC-Fluid Power has outgrown its current space in Rossford, Ohio and is expanding its partnership with one of its suppliers Universal Hydraulik to manufacture heat exchangers at the new facility specifically for the North American market. The new building features open-plan office and warehouse to allow easy reconfiguration and expansion as well as creating a welcoming, clean and comfortable space for employees.
Design was completed by Duket Architects Planners and Rudolph/Libbe Inc., a Walbridge-based general contractor, is the construction company responsible for building.
Attendees of the groundbreaking included IC-Fluid Power President, Armin Hunger and Vice President, Bernd Hunger, Mike Duket and Jeff Brummel of Duket Architects Planners, as well as Dick Kelsey, Troy Fritch and Carla Klatt from Rudolph Libbe. Markus Rasmus from 5/3 Bank, Charles Bloom Manore Bloom & Csomos, City of Northwood Administrator, Bob Anderson and Northwood Chief of Police Thomas Cairl, were also in attendance.
"We are excited for this next step in the growth of IC-Fluid Power," commented Armin Hunger, president of IC-Fluid Power. "We continually adjust our supplier base to provide world-class hydraulic products and engineering to the North American market. The completion of this building next spring also coincides with IC-Fluid Power celebrating 25 years in business."
Based in Rossford, Ohio, IC-Fluid Power is a privately-held firm providing custom hydraulics, replacement parts, technical expertise and repair for European-engineered product lines to clients throughout North America. Since 1989, IC-Fluid Power has successfully provided engineering solutions and peace of mind. For more information on IC-Fluid Power, call 877-ICFLUID or visit www.icfluid.com.