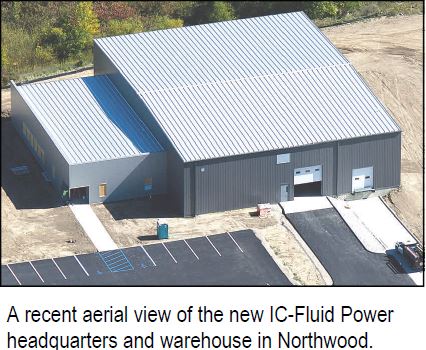 IC-Fluid Power's New Headquarters Featured in Publication
Once a week Rudolph Libbe puts out a newsletter titled Common Ground.  The October 1 issue features information and comments about the new IC-Fluid Power building.
Below is the article. Click for entire issue .Common Ground ICFP

IC-Fluid Power: A perfect '10'
IC-Fluid Power, Northwood— R/L and GEM scored a perfect "10" on a recent midpoint customer survey on IC-Fluid Power's new headquarters and warehouse.
Ben Hunger, of IC-Fluid Power, says: "We are extremely satisfied with the overall performance of R/L and its subcontractors on this job. "Everyone was friendly and worked professionally while providing quality work. People are open to discussion and trying new things. Detail with meeting minutes, budget logs, scheduling, etc. has been excellent."
Leading the team:
Ron Kuzma, R/L Varco-Pruden estimator/project manager
Troy Fritch, R/L preconstruction services coordinator
Annette Stuller, R/L project manager
Ryan Zellner, R/L superintendent
Steve Mack, concrete foreman
Ted Twigg, laborer foreman
Dick Kelsey, R/L business development representative
Andy Moya, GEM structural steel estimator
Jim Russell, GEM structural steel project manager
Don Cherry, GEM ironworker foreman