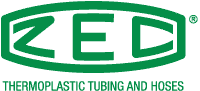 ZEC
Founded in 1961 by Eugenio Zantelli, ZEC soon established itself as one of the leading companies for thermoplastic hose in Europe. By 1970, research on the production of a comprehensive range of low, medium, high and very high-pressure hoses was well underway. In compliance with all major international standards, ZEC quickly became a leading thermoplastic hose supplier in the following industries: hydraulics, pneumatics, lubricants, solvents, paints, chemicals and gas.
Today, thanks to the experience gained in these fields, ZEC produces an exhaustive range of both standard and special linear, single, multiple and spiral thermoplastic hoses. Such variety comes with a display of technical features offering a choice of internal diameters ranging from 2 to 4 mm; working pressures from 72 psi to 18,000 psi (5 to 1280 bar) and temperatures from –328°F to 500°F (+200°C to +260°C). ZEC hoses – depending on the type – are designed to face the ever increasing and complex challenges set out by industrial automation.
---
Eckart Products
Constructed of galvanized steel and stainless steel, a hose fitting for just about every application is available.
A wide variety of thermoplastic hose materials such as Rilsan PA11, Polyamide 12, Polyurethane, Hytrel, Polyethylene, and Ptfe are available to suit your low-pressure application
These hoses are used for applications such as pneumatic, hydraulics, lubrication, solvents, paints, gasses, chemicals, and high temperatures.