HYDRAULIC HOSES — HOSE FITTINGS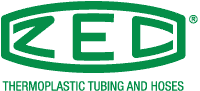 Hydraulic Hoses – Hose Fittings
Thermoplastic hose fittings are offered by ZEC in galvanized steel and stainless steel. The fittings can be used at high pressure in the oil-hydraulics, lubrication and high temperature sectors, as well as for gasses, solvents and paints, and chemical products.
Product Features:
ZEC is a supplier and thermoplastic tubing and hoses manufacturer for various applications including construction, mechanical, technological, and industrial.
---
Related Products
Constructed of galvanized steel and stainless steel, a hose fitting for just about every application is available.
These hoses are used for applications such as pneumatic, hydraulics, lubrication, solvents, paints, gasses, chemicals, and high temperatures.
A wide variety of thermoplastic hose materials such as Rilsan PA11, Polyamide 12, Polyurethane, Hytrel, Polyethylene, and Ptfe are available to suit your low-pressure application