IC Series Rotary Actuators
Compact actuators with high torque and bearing capacity with short lead times and flexible shipping methods.
IC Series — Rotary Actuators
Faster Lead Times in Comparison to Leading Brands
The IC Series can be used as a drop-in replacement to Helac's rotary actuators. This series offers a cost-effective solution with faster lead times (22-26 weeks) or 10-14 weeks with optional expedited shipping. The series or type is chosen based on mounting style and required torque.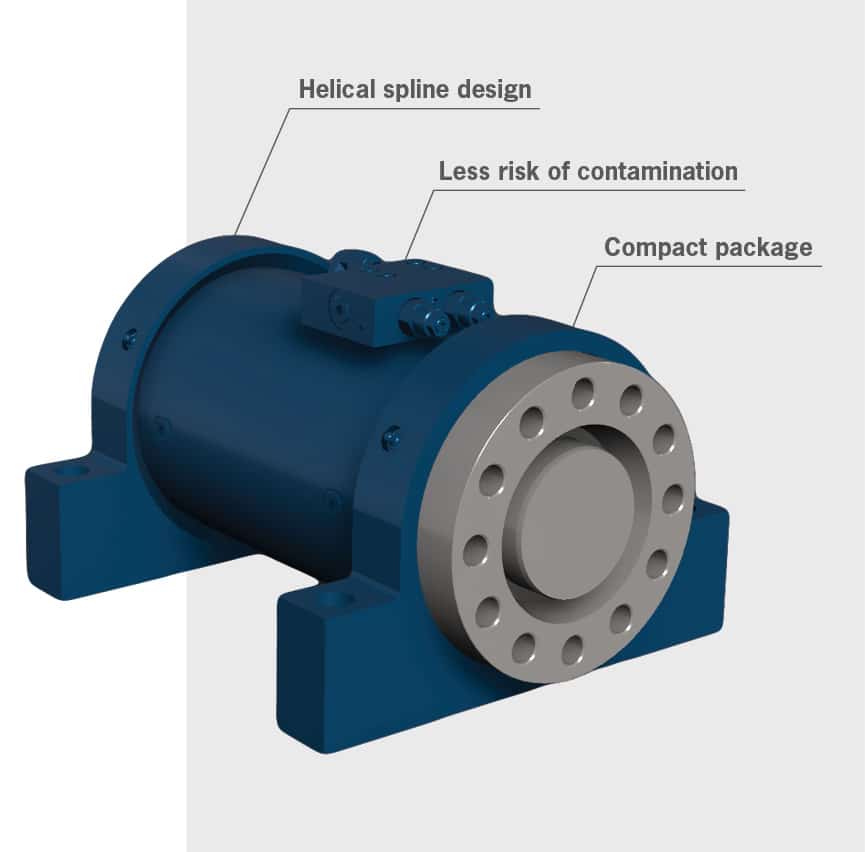 What's the Difference Between Series?
Specifications
IC10 Series
IC20 Series
IC30 Series
IC40 Series
Rotation
180°, 360°
180°
180°, 360°
200°, 220°
Max Drive Torque
in-lbs at 3,045 psi (NM at 210 bar)
1,590 – 23,890 (180 – 2,700)
4,420 – 37,170 (500 – 4,200)
16,180 – 212,410
(1,900 – 24,000)
24,780 – 59,290 (2,800 – 6,700)
Max Holding Torque
in-lbs (NM)
5,570 – 83,190
(630 – 9,400)
11,500 – 92,930
(1,300 – 10,500)
43,360 – 522,190
(4,900 – 59,000)
53,980 – 126, 560
(6,100 – 14,300)
Mounting, Body
Flange
Foot
Foot, Flange
Foot
Mounting, Shaft
Cantilever
Cantilever, Straddle
Cantilever, Straddle
Straddle
The IC Series can be used as a drop-in replacement to Helac's rotary actuators. This series offers a cost-effective solution with faster lead times (22-26 weeks) or 10-14 weeks with optional expedited shipping. Some units readily in stock.
What are Rotary Actuators?
In its simplest form, a rotary actuator is a device that uses hydraulic fluid to generate rotary motion without a linkage. These devices come in handy when applications call for any form of transporting, securing, or positioning of parts.
How Do Rotary Actuators Work?
In terms of design, rotary actuators are most often configured as vane type, rack-and-pinon type, or helical spline actuators.
Our rotary actuators are the helical spline design. This means, a piston and a helix, or sliding spline, work together to convert the linear motion of the piston into rotational motion. Helical spline actuators function when the piston is axially displaced using hydraulic pressure causing simultaneous rotation of the piston.
Hydraulic rotary actuators are typically designed to operate at low speeds and produce high torque through arc lengths ranging between 90°, 180°, 270°, and 360°. They also can be configured up to 720° or more by making the spline gears longer while maintaining the same diameter.
Common Applications: IC Series
Mining Industry: Drill Rigs
Rotary actuators and linear cylinders are frequently used in drill rigs to manipulate the movements of the drill arm. In blasting applications, the drill arm creates a series of blast holes in which explosives will be charged. The blast holes may be placed in the floor, ceiling, or sides, which means positioning and flexibility of the drill arm are paramount. Helical gear actuators can provide as much as 360° of rotation, while at least offering the same control and torque as a cylinder with a linkage. The IC30 Series, for example, offers a high torque output of 212,410 in-lbs at 3,045 psi (24,000 Nm at 210 bar) with 360° of rotation versus a cylinder with a limited field of motion. Some machines even combine two rotary actuators on the same arm to offer an even higher degree of arm positioning; however, these are often custom rotary actuator designs.
Helical gear actuators also build smaller, significantly reducing its footprint compared to a linkage-based cylinder construction. Contamination is also less of a concern for actuators in mining applications. Since actuators are fully encased in housing, there is a reduced chance for contaminants to invade the drive shaft. Cylinders have an exposed rod and tend to drag particles, like dust or debris, over the seals during retraction. If the cylinder gets contaminated, then the sealing function is no longer optimum on the piston side and rod side. Once the sealing function is compromised, the complete function of the cylinder is also compromised due to leakage across the seals. This results in reduced cylinder performance or even failure of the machine to work properly at all. Furthermore, the exposed cylinder rods can be physically damaged. Rotary actuators offer better sealing capabilities in terms of mitigating contamination, and lead to a longer service life.
Waste Management: Tippers
The benefit of using a rotary actuator over a cylinder is just like all rotary actuators– it builds much more compact and is less prone to damage versus an exposed linkage. In bin tipper applications, linkage systems stick out of the truck's back and are vulnerable to physical damage and misalignment. Actuators are less bulky and are safely encased in a housing, reducing its maintenance cycles and the possibility of damage from external forces. Rotary actuators also provide more range of motion than cylinders. In the refuse/waste and recycling tipper market, standard degrees of rotation for bin dumpers include 135° or 180°. The IC40 Series; however, offers rotations of 200° and 220°, adding more extension to the tipper to fully dump the components of the waste receptacle.
Agriculture: Farm Machinery
Hydraulic rotary actuators are commonly used in the agriculture industry to provide a precise way to distribute fertilizer, supply water to crops, steer equipment, and position attachments. Helical gear actuators create rotational movement and control for just about any farm machinery, from folding attachments for on-road transportation to positioning the nozzle of a mobile sprayer in place. Depending on the rotation and mounting needed, the IC10 and IC20 Series offer optimum solutions. The IC10 Series has a max drive torque of 1,590-23,890 in-lbs at 3,045 psi (180-2,700 Nm at 210 bar) and offers rotations of 180° and 360° with flange mounting. The IC20 Series has a max drive torque of 4,420-37,710 in-lbs at 3,045 psi (500-4,200 Nm at 210 bar) and offers a 180° rotation with foot mounting.
Forestry Equipment: Tree Care Handlers
Rotary actuators are typically used in forest and felling equipment to move components, such as grapplers or boom arms, in tree removal and timber harvesting applications. The IC10 Series could provide high performance in this application with a max drive torque of 1,590-23,890 in-lbs at 3,045 psi (180-2,700 Nm at 210 bar) with rotations of 180° and 360°.
Hydraulic Rotary Actuator Benefits
Hydraulic rotary actuators are known for their strong ability to produce power quickly. In comparison to pneumatic and electric rotary actuators, hydraulic actuators are the most powerful and have the capacity to achieve a torque output up to 2,200,000 Ibs-in (250,000 Nm) as a helical spine actuator and even higher as a rack and pinion actuator.
Rotary actuators also require a minimal amount of space while delivering high performance and flexibility due to its compact design. They also have high-efficient end cushioning and wear-resistant sliding surfaces.
Why Choose the Helical Spline Design?
Helical gear rotary actuators typically build smaller and lighter than other designs, such as a traditional rack and pinion or linkages using hydraulic cylinders which generally run at larger dimensions. Additionally, helical spline actuators have a compact and simple design, suitable for many applications limited in space.
In addition to their simple and compact design, helical gear rotary actuators are completely submerged in oil enabling smooth, low maintenance operation of the actuator, as well as a longer service life. Comparatively, rack and pinion actuators are only partly submerged with oil and the middle of the device runs dry. This means that the actuator needs consistent lubrication and maintenance to prevent heavy wear and tear of the device.
Helical spline actuators are completely self-contained in its housing. Having external protection could be vital for the operation and performance of the device if the actuator is working in conditions where dust and debris could easily invade the device. For example, actuators and cylinders are typically used in mining applications to control precise movements of the drill rig arm. Using a helical spline actuator over a cylinder with a linkage would be more effective, as there is significantly less risk of contamination. Using a cylinder could allow contaminants to easily filter into the exposed rod and lead to cylinder failure.